Jean jackets are a killer spring accessory! They are a great extra layer for cooler spring days and look super chic with so many different casual outfits. This spring, I've been looking into my existing closet for new outfit inspiration and ideas that are casual, yet still put together. My jean jacket has turned into a natural go-to. Here are 3 spring jean jacket outfits that are easy to re-create with items in your closet …
Disclaimer: This post contains affiliate advertising, which means that if you click on or purchase a product through a link, I may earn a commission.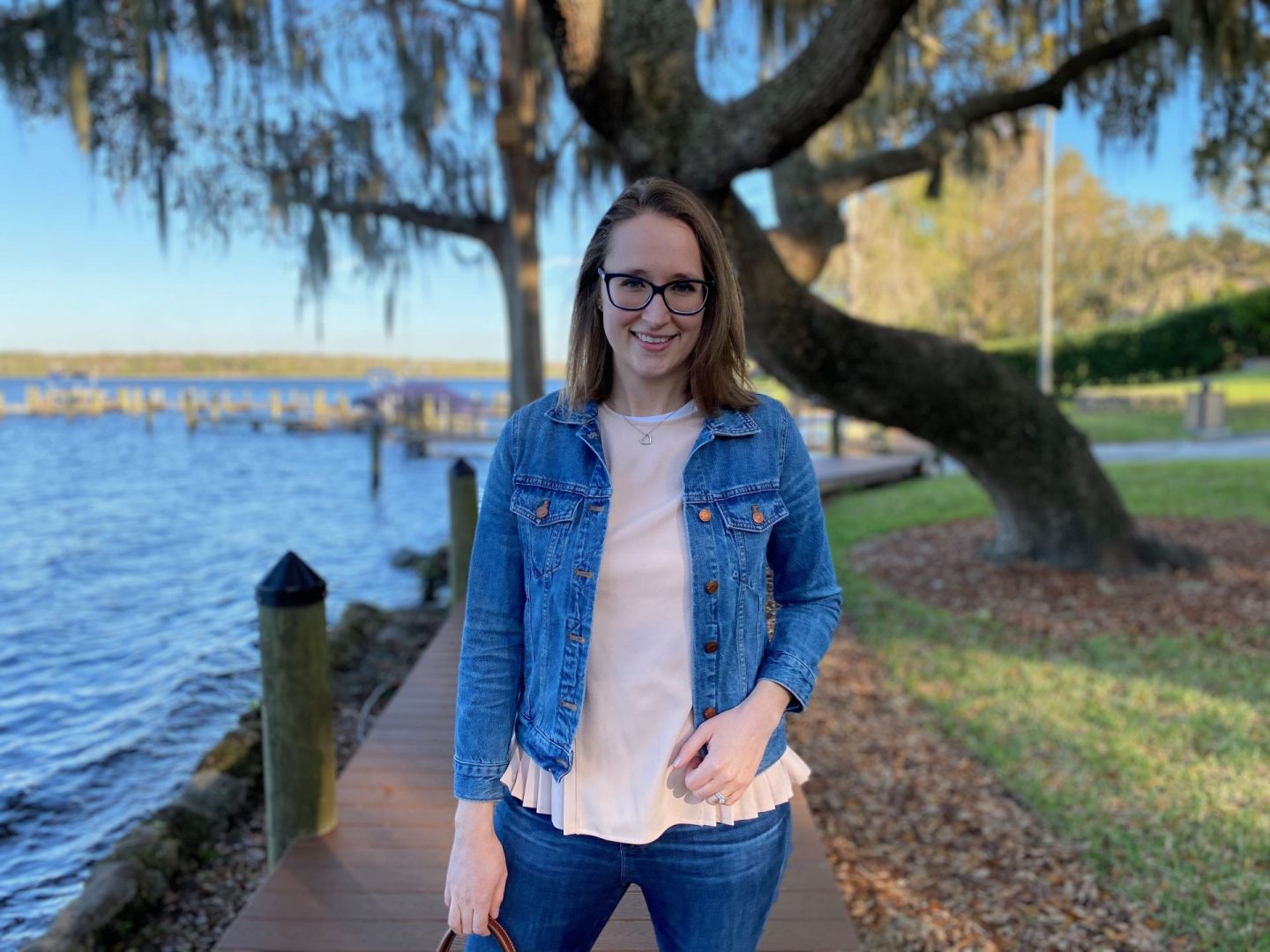 My jean jacket is this amazing Madewell jean jacket. I've had it now for a couple years now and it never fails to look great during the spring/fall months! If you don't yet have a favorite jean jacket in your closet, I highly recommend adding one as they offer so much versatility!
Some other great options are …
Now on to some outfit inspiration! I styled these into 3 spring jean jacket outfits using closet staples. Each are casual, but still put together for relaxing days at home. Plus, they are easy to recreate using items that you also probably have in your closet!
First up, nothing is more perfect than denim with crisp white. Everyone has a plain white tee in their closet and it's perfect for this outfit! Pairing the jean jacket with a Gap white tee and matching denim color AG jeans is a great classic outfit. I paired the outfit with matching white Sam Edelman sandals (old, similar here) and dark sunglasses for a casual look.
2 | Styled with Pastel Print Blouse
Next, for a more fun everyday look, I paired my Madewell Jean Jacket with a pastel print Joie silk blouse (old, similar here). Now if you don't have a pastel pink print blouse, any print top or silk top would look amazing. Alone, the silk blouse with Gap White Jeans is a dressy look, but paired with the jean jacket is a great casual everyday look! I love White Jeans in the spring and the pastel pink really pops with the denim. To complete the look, I paired it with gold CC Corso flats.
Last, I paired my Madewell Jean Jacket with pastel pink Ann Taylor Pleated Hem Tee and matching color AG Jeans. As seen in my pastel pink blouse post (click here if you missed it), this is such a great spring combination with a little pop of color with the pink. Pastel colors and denim just look so perfect together! To complete the look, I paired it with white Sam Edelman Sandals (old, similar here), and Ralph Lauren Sunglasses.
You may also enjoy: Perfect Ann Taylor Spring Blazer and The Perfect Trench for Spring