With the warmer weather beginning, birds starting to chirp, and flower buds beginning to peak out, I am in such a spring mood! Spring is the perfect time to for all thing pastels! This spring I am loving all the pastel pink style options, including this amazing pastel pink Ann Taylor Pleated Hem Tee! This is my guide on how to style a pastel pink shirt with three perfect spring outfit options.
Disclaimer: This post contains affiliate advertising, which means that if you click on or purchase a product through a link, I may earn a commission.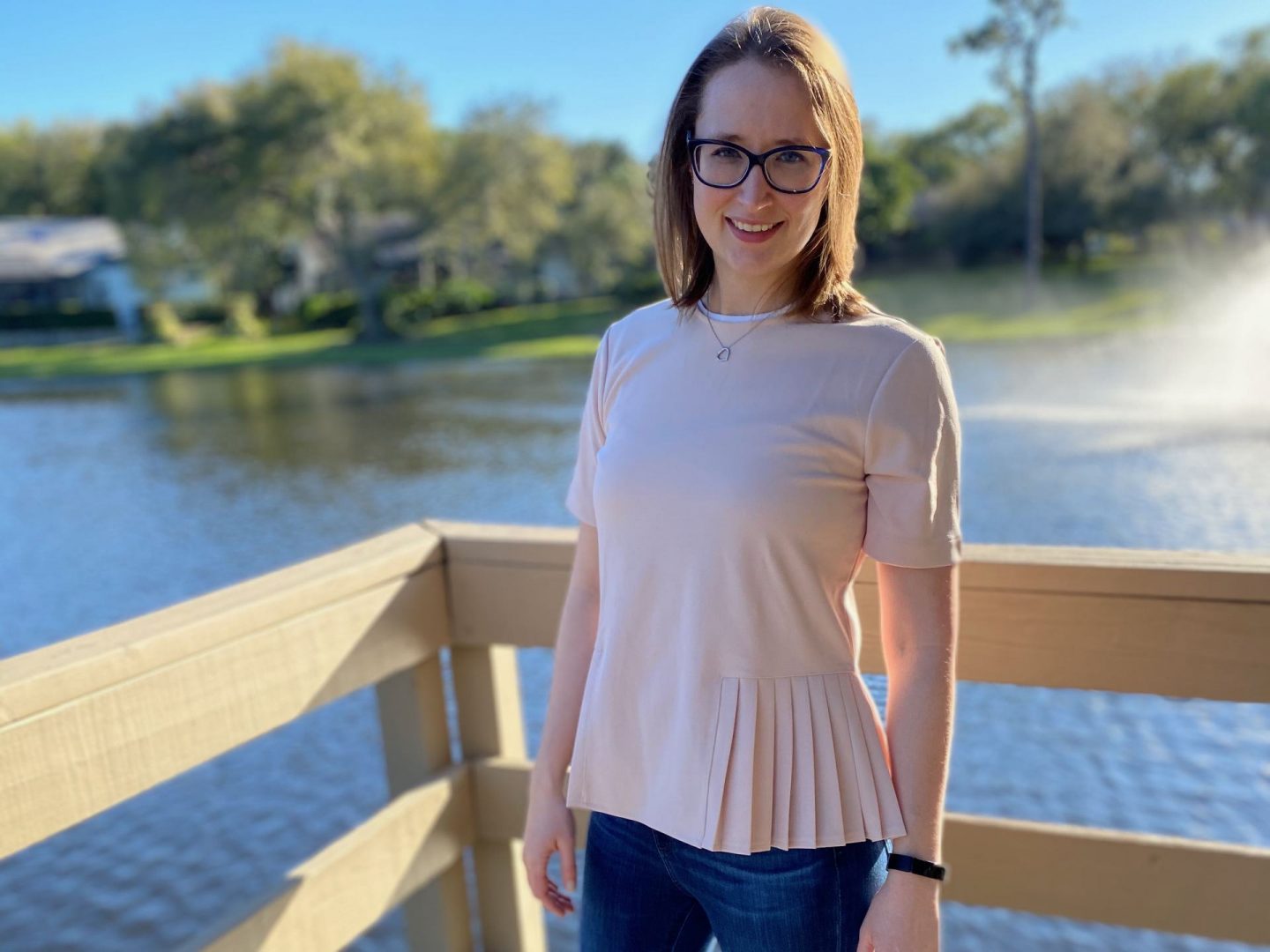 Pastel pink shirts are perfect for spring weather! Whether it's a cooler or warmer day this is my guide on how to style a pastel pink shirt gives you three amazing options.
Before we jump into the style options, let's first talk about the perfect pastel pink shirt that I am loving this spring! A good pastel pink shirt is essential for this spring! It is such a great color for spring! I especially love this Ann Taylor Pleated Hem Tee that is the perfect light pink color. It has such amazing detailing with the pleated side ruffles. They add such a feminine touch to it!
There are also some other amazing options this spring! A good splurge worthy item is this Joie Ance V-Neck Silk Blouse. Silk blouses are so timeless and this Joie one is no exception! For something more middle of the market, this Ann Taylor Striped Jacquard Mock Neck Shell and this Calvin Klein Ruffled Button-Down Blouse one are great options. If you are looking for something more budget friendly, this Philosophy Chiffon Short Sleeve Blouse one is great and at such an incredible price point at under $20!
Now the fun part, how to style a pastel pink shirt for spring! Below are three perfect spring outfit options:
1 | Casual Outfit Idea
First up, a casual outfit idea with a pastel pink Ann Taylor Pleated Hem Tee. Nothing is more casual than pairing this pastel pink Ann Taylor Pleated Hem Tee with dark AG Jeans and white Sam Edelman sandals for spring! This causal outfit idea will be perfect transitioning into summer and for warmer spring days.
2 | Layered with a Jean Jacket
Once spring hits, I love pulling out my Madewell Jean Jacket! Jean jackets are such a staple for me during transitional months. They look great with both light and dark colors. Plus they offer an added layer of warmth for cooler days. Thus, this pastel pink Pleated Hem Tee looks amazing layered with a Jean Jacket.
3 | Preppy Monochromatic
I love a good monochromatic look. Nothing is more perfect for spring than a monochromatic pastel pink outfit! For a preppy spring look, I paired this amazing pastel pink shirt with this equally amazing Ann Taylor Blazer. This blazer is the perfect addition to any spring wardrobe! I absolutely love the detailing of it!
If you missed it, please see here for a complete post on this Perfect Spring Blazer!
You May Also Enjoy Reading: The Perfect Ann Taylor Spring Blazer and 5 Spring Style Essentials