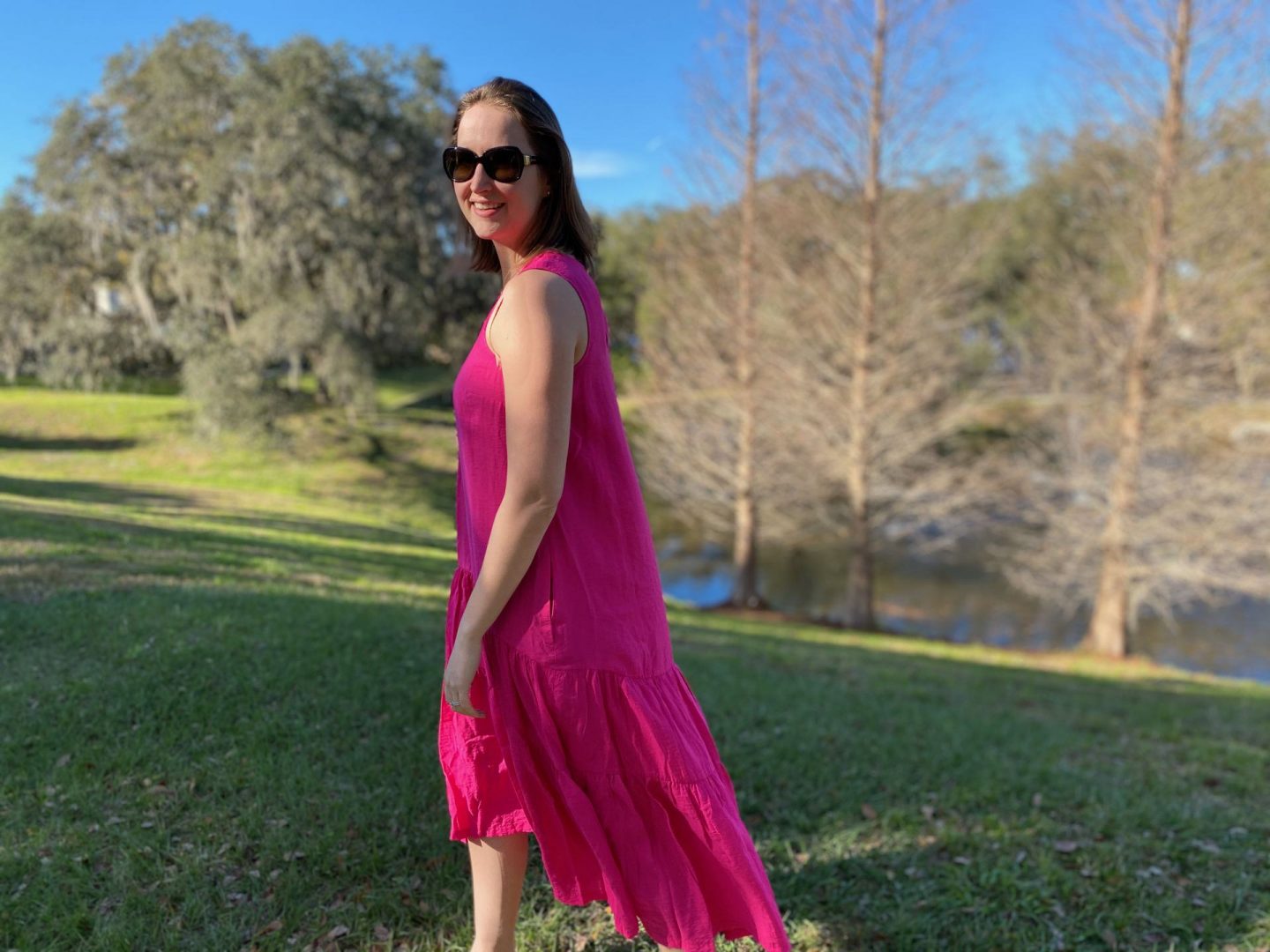 Every summer, I find myself in tons of different dresses. This summer is no exception! There are so many good options that are great for working from home, relaxing on the patio, or socially distancing with friends. But one dress in particular has become my go-to! The Marlene Tiered Maxi Dress By Maeve is truly the perfect summer dress this year!
Disclaimer: This post contains affiliate advertising, which means that if you click on or purchase a product through a link, I may earn a commission.
Browsing online for summer dresses, I came across the Maeve Tiered Maxi Dress (under $150) while looking at Anthropologie. I immediately loved the bright, hot pink color! Nothing makes me as happy as bright colors in the summer! Whether it's hot pink, coral, or baby blue … It really helps brighten my mood. And this dress is no exception!
I also loved the amazing shape of the Maeve Tiered Maxi Dress! The tiered style looks amazing on. With its relaxed fit & stylish tiers, it is perfect for staying at home all summer long. Plus, it has pockets, and who doesn't love having pockets in their day-dresses!!
I also love that the Marlene Tiered Maxi Dress was made out of a rayon/nylon fabric that has a cooling sensation to it! Perfect for the hot summers in Cincinnati. It is the perfect texture too with a light gloss appearance to it that makes it easy to dress up and dress down.
Some Other Tiered Dresses
This summer, there are so many great tiered dress options! I also really love the Gap Tiered Split-Neck Dress (under $75) for cooler days with the longer sleeves! It's such a pretty coral color. This Julia Jordan Gingham Stripe Tiered Maxi Dress is another great option. You know I can't resist a good nautical stripe and midi length! This English Factory Sleeveless Tiered Shift Dress (under $75) is another great option that comes in a shorter length, but the different colored tiers are so cute!
You may also like: Easy Summer Style with a Linen Dress and How to Accessorize a White Dress