This year, I wanted to start walking more regardless of where in the world I was. So while most of January I have been home, I thought what better way than to explore the amazing parks in Cincinnati?! We have been having a blast exploring the parks in the city. One of our favorites has been our walks through Sharon Woods.
Disclaimer: This post contains affiliate advertising, which means that if you click on or purchase a product through a link, I may earn a commission.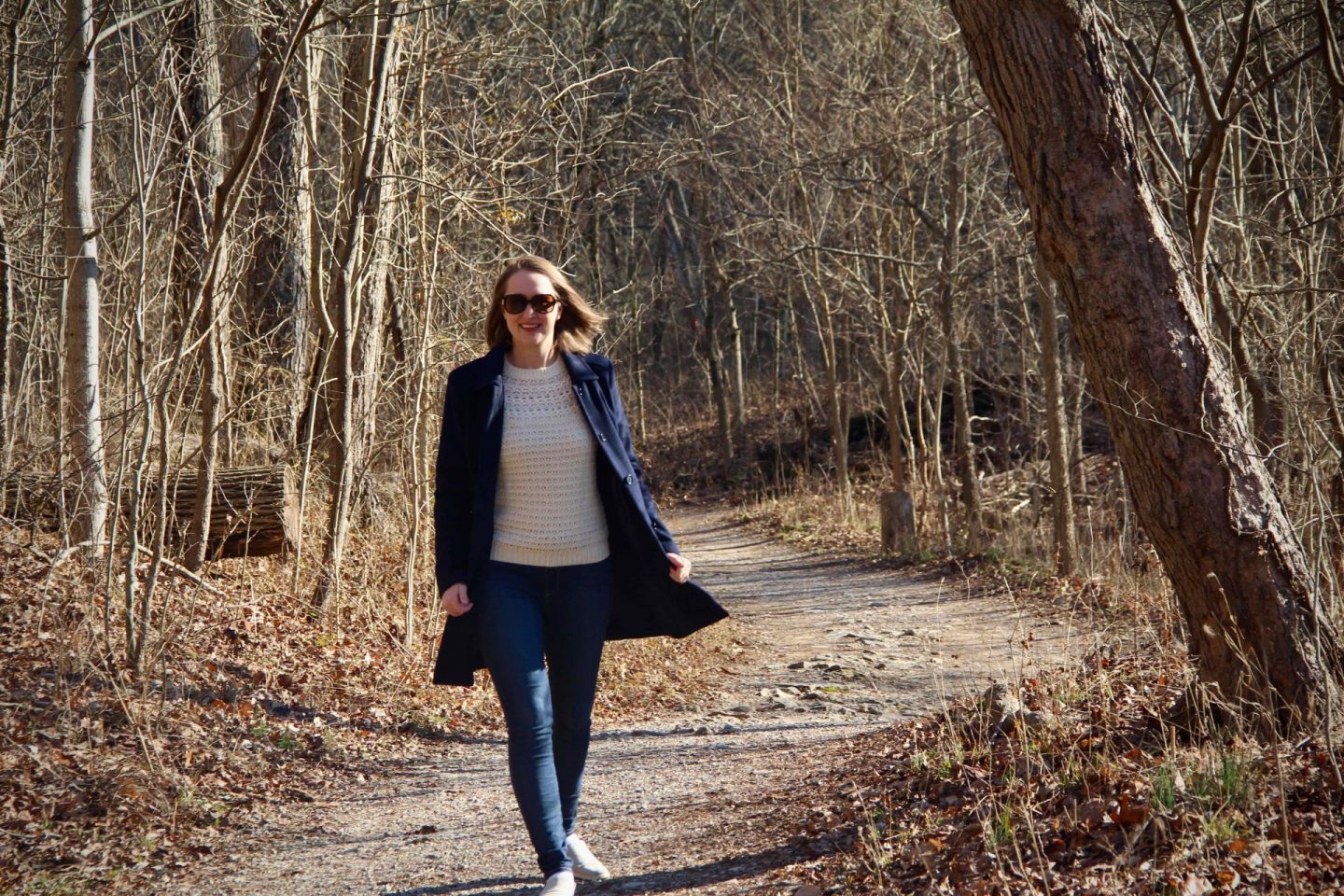 Walks through Sharon Woods
We are blessed in Cincinnati, OH with generally warmer winters. This makes it ideal to get out and explore the amazing parks around the city. Last winter and into spring, we were regulars at Ault Park just outside the city (remember my post on spring in Ault Park). This winter, we have been exploring multiple different parks.
One of our favorites has been our walks through Sharon Woods. This park is a short drive north of the city. It is a great escape from the city center. It has miles & miles of walking trails through the woods. There are multiple different routes to take throughout the woods. One loops you around a gorge with waterfalls. While another goes around a tranquil pond. There are so many different options to take in the natural beauty.
What to Wear
Walks through Sharon Woods are so relaxing. They can also be chilly during the cooler months. Wearing sweaters such as this fair isle sweaters (also seen in my favorite winter sweaters post) with thinner wool jackets or a warm scarf are ideal for our adventures in the woods. They keep you warm while being breathable. Plus it makes it so easy to transition between activities! This sweater there are so many amazing options to choose from! I love this A.P.C. Miranda Pullover and this more neutral Tommy Hilfiger Turtleneck Sweater.
Bringing a thin jacket (like this J. Crew day coat or this Ted Baker wrap coat) is ideal for cooler days. I love wearing wool jackets in the winter as they are super polished looking and super warm. This makes it easy to transition from walks in the park to errands around town to dinner in the city. Besides the J. Crew Day Coat & Ted Baker wrap coat, I also love this Cole Haan Slick Wool Topper Coat (currently on sale under $200!).
If you enjoyed reading, you might also enjoy:
My 3 Favorite Winter Coats and My Favorite Winter Sweater