Madewell has been one of my go-to stores for basics & trendy pieces for years! From my favorite denim jacket (seen in my 2019 fall capsule wardrobe and earlier this year in how to wear it 3 ways) to skinny jeans & plain tees, they have amazing products that are really "made-well." This fall, I was so excited to try the Madewell Leopard Remi Mules. I love leopard for fall and mules just remind me of slippers so they seemed like the perfect option for this fall's go-to shoe!
Disclaimer: This post contains affiliate advertising, which means that if you click on or purchase a product through a link, I may earn a commission.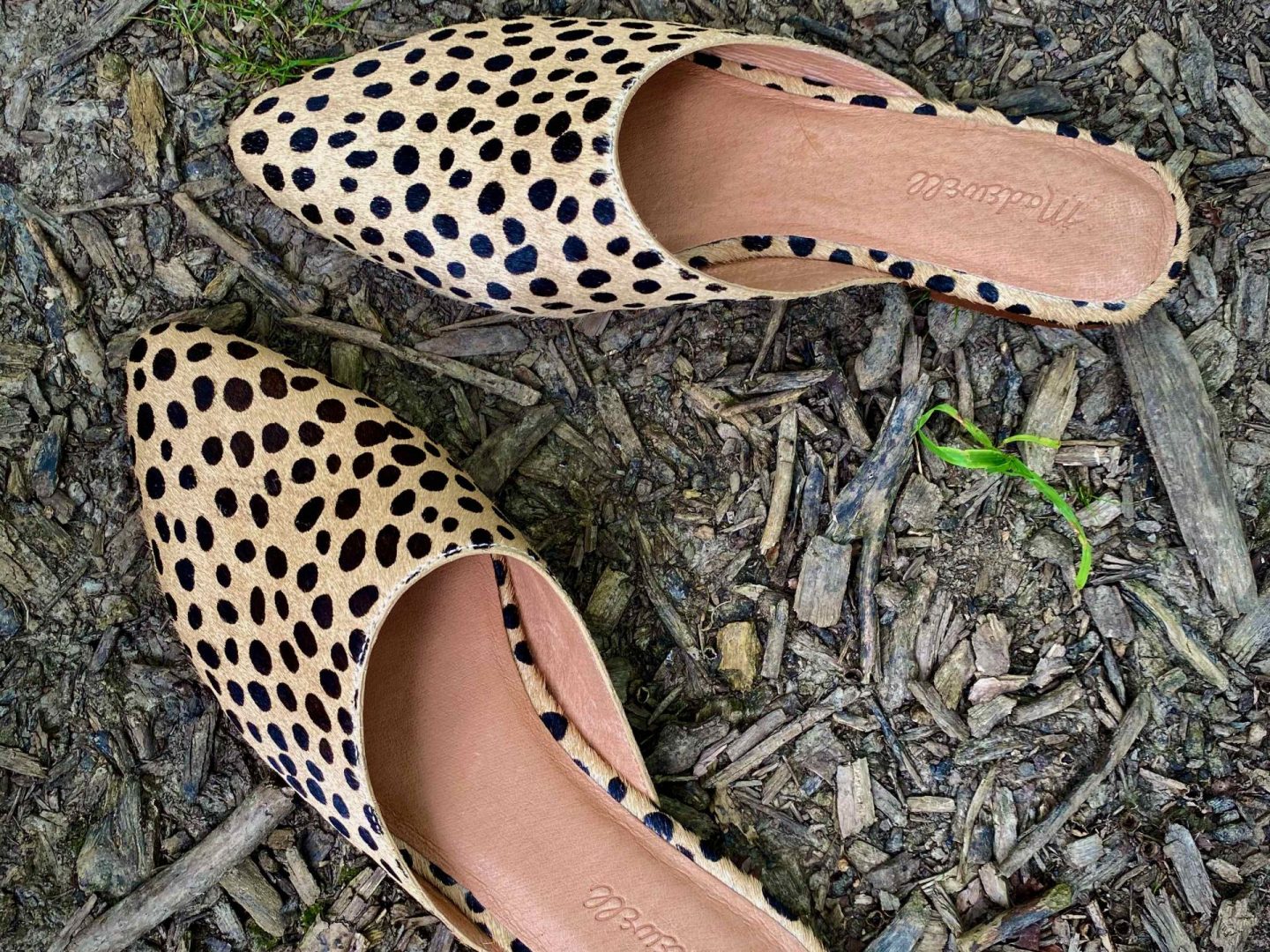 The Madewell Remi Mules did not disappoint. Not only is the leopard print perfect for fall, but these mules are super comfortableThey are really sturdy and so easy to break in. The mule design is absolutely perfect to wear around the house (as I said essentially slippers) or heading to socially distanced outings.
Similar Leopard Mule Alternatives
So many other brands have similar alternatives .. New York & Co has a very similar pair that is a great budget alternative (under $25 – on sale now!). I also love these Journee Collection Olivea Mule (under $50) with the braided strap detail. If you are looking for a splurge, these Joie Akay Mule are also super cute with a really fun beaded heel!
The Madewell leopard mules are so easy to wear! Here are 3 fall outfit ideas to help show how versatile these shoes really are:
1 | Casual House Dress with the Remi Mules
The Madewell leopard mules also look great with a casual house dress, such as this J. Crew Chambray Dress (old, similar Maxi Jeans Chambray Dress Here). This everyday look is perfect for fall at home and the mules are great to wear around the house instead of slippers.
Wide leg jeans are here to stay this fall. These J.Crew Wide Leg Jeans (Old, Similar From This Season Here – Under $40) are a favorite from last year and I'm so glad I can wear them again this fall! Pairing with a plain white tee from Madewell creates a great casual look with the Madewell Remi mules.
3 | Ankle Jeans with the Remi Mules
Finally, another good fall look, is pairing the Madewell leopard mules with ankle jeans. I love these Rag & Bone high waisted skinny jeans and a wrap blouse paired with the mules for a casual look.
You May Also Like: Fall Capsule Wardrobe and 4 Jackets that are Perfect for Fall