Can you believe that it's finally Friday?! We made it! But before we head into the weekend, I wanted to share some of my favorite women's fall blazers this week to help inspire some new ideas for your work day! There is just something so good about a power blazer! Not only does a great blazer pull together any outfit, but it instantly boosts confidence! This fall there are so many great options, including my favorite 5 below:
Disclaimer: This post contains affiliate advertising, which means that if you click on or purchase a product through a link, I may earn a commission.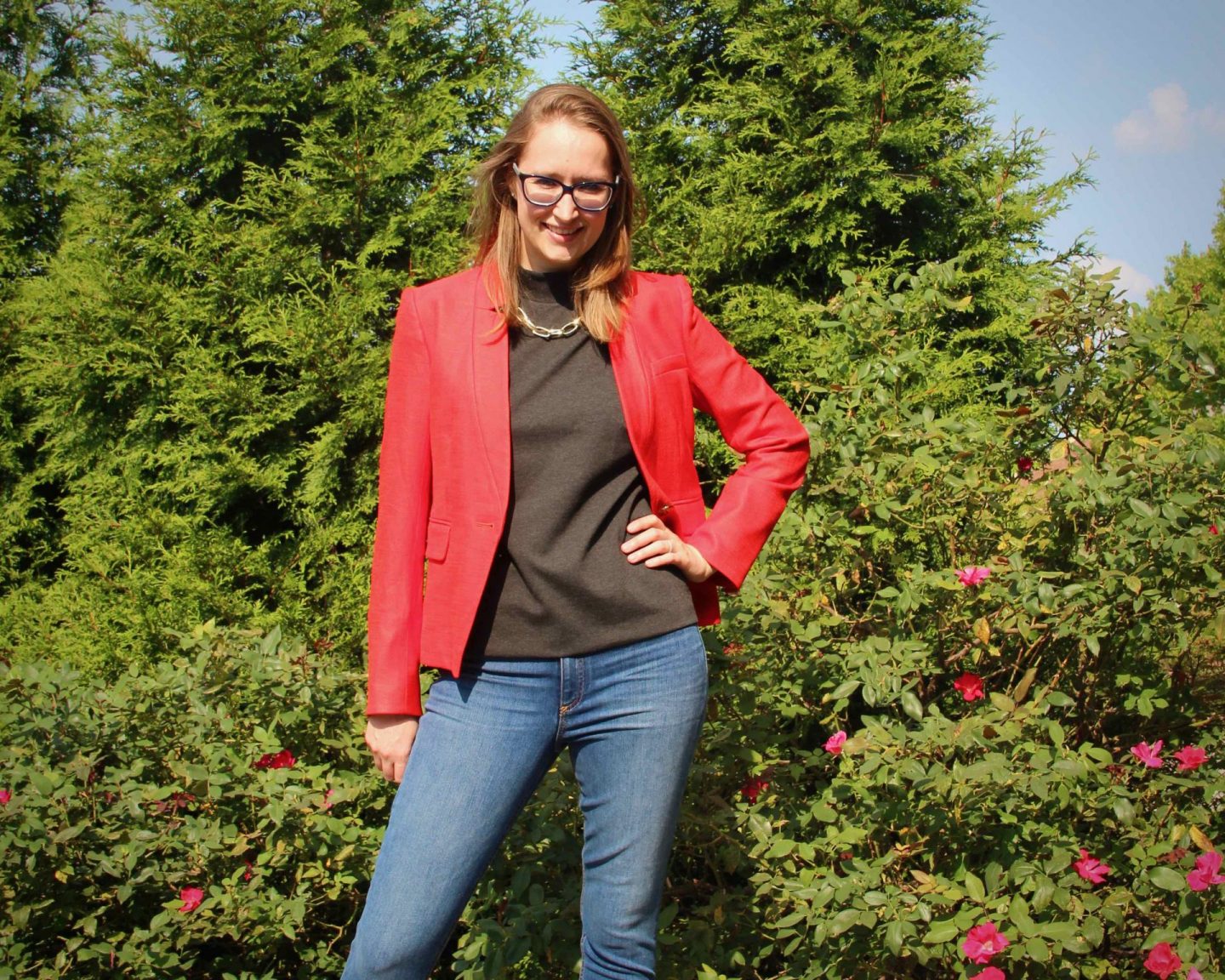 My Favorite Women's Fall Blazers
For today's Friday 5, these are my favorite 5 women's fall blazers:
I have been loving Veronica Beard blazers since the day I learned about the company and tried on my first blazer! They are absolutely perfect for every work outfit and this Veronica Beard Farley Up-Collar Dickey Jacket (currently on sale under $200!) is no exception! The cut is absolutely perfect with the clean lines and the popped collar (complete with detailed V-shaped stitching). Plus the bright red color is stunning for fall!
I also recently posted another great fall Veronica Beard blazer outfit here.
Another great women's fall blazer is the Vince Zip Cross Front Leather Jacket. This leather jacket is made of the absolutely softest leather (plus, it's exterior is 100% leather)! It is splurge purchase, but completely worth it as a great leather jacket lasts forever! Plus, I love the diagonal zipper cut that makes it so classic. The Vince Leather Jacket can be worn in a variety of different ways for casual as well as dressier days in the office.
For some cute outfit ideas with this blazer see: 3 Ways to Style a Leather Jacket
The J.Crew Regent Blazer (under $200!) is such an iconic blazer! It is a staple year round and this fall is no exception. With the popped collar and coordinated color stripe, this jacket is so classic. It is so easy to pair with a tee for a casual look or pair with a silk blouse to dress it up.
I couldn't mention my favorite fall blazers without bringing up the Rag & Bone Lexington Blazer. I bought mine last year and couldn't stop wearing it! It is one of the most comfortable (yet still very dressy) blazers I own! This fall there are even more options including this fun striped one. It is such a great staple blazer for any business meeting.
Finally, no blazer round-up would be complete without the Ann Taylor Hutton Blazer (under $200). Similar to the Rag & Bone Lexington Blazer, the Hutton Blazer also has a great classic cut that makes it an awesome staple for working at the office. This classic blazer comes in a variety of colors and patterns (like this fun leopard print).
For some outfit ideas for this blazer in pastel pink visit: The Perfect Ann Taylor Blazer
You Might Also Enjoy: Veronica Beard Blazer for Fall and Fall Fashion Favorites