For office, work, or preppy style, nothing is more classic than the perfect camel blazer. It completes every outfit and makes it look pulled together. This fall, I found the perfect blazer with the Veronica Beard Lonny Linen Dickey Blazer! If you aren't already familiar, Veronica Beard blazers are some of the highest in quality and this is no exception. Not only is it classic and timeless, but it is the perfect camel blazer for fall.
Disclaimer: This post contains affiliate advertising, which means that if you click on or purchase a product through a link, I may earn a commission.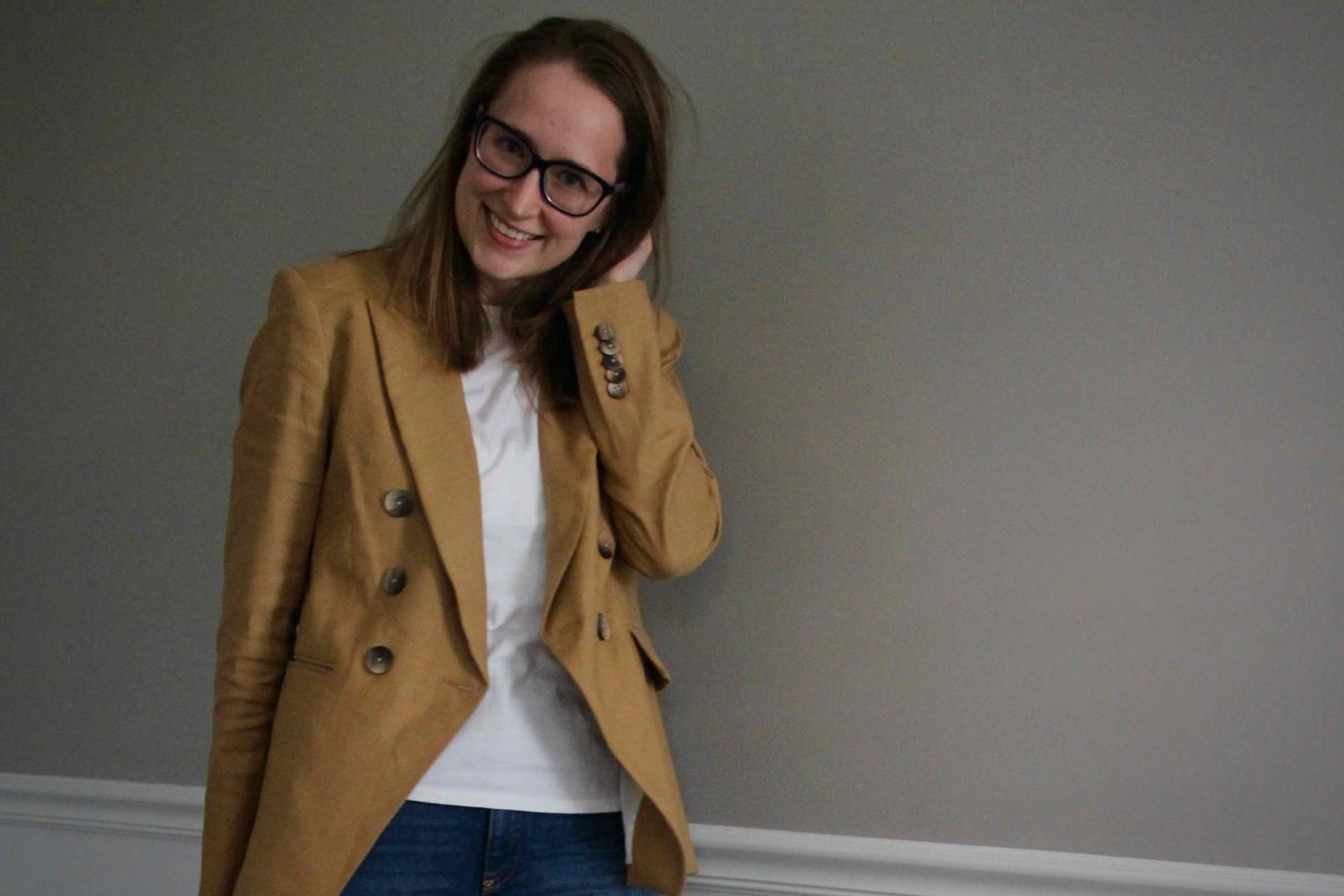 Before we jump into this specific Veronica Beard blazer (because it is absolutely perfect for fall) I first wanted to talk about the company that makes it. They are equally special! I love supporting small, female run companies and Veronica Beard fits that bill! It is run by 2 amazing powerful women named 'Veronica Beard.' They are not only amazing business women, but they clearly know how to juggle it all! Started 10 years ago from a small store in New York, Veronica Beard has since grown into an international company making some of the best blazers (and work clothes) around! They knew something was missing in the market for women's work attire and set out to create simple, easy to mix blazers. The blazers not only make getting ready for work a breeze, but have so many fun details and are super high quality!
Okay so now to this specific Veronica Beard blazer – the Lonny Linen Dickey Jacket (currently on mega sale at under $200!)! I've been looking for the perfect camel blazer for quite some time and none really fit the bill until I tried this one. The color is amazing and I love the tortoise buttons for a fun contrast! It's made of a linen blend fabric that is surprisingly warm and creates the perfect amount of smooth lines and wrinkles. It is casual, but the fun double breasted button's create the perfect put-together blazer for fall! Also, it comes in white and black for additional options that are also just as timeless.
Similar Blazer Alternatives
Some other great alternative camel blazers that are perfect for fall are Talbots Brushed Wool Blazer – under $200 and Michael Kors Double Breasted Linen Blazer. If you are really looking to splurge, this Stella McCartney – Eleanor Twill Blazer is absolutely to die for and so timeless!
Outfit Idea
The Veronica Beard Lonny Linen Dickey Blazer is so versatile! You can easily dress it up with jewelry, but I love it for casual looks such as with a plain white tee (like how I styled below). Paired with Rag & Bone high waist ankle jeans and my favorite Madewell Remi Leopard Mules – also on sale!, this is a great work from home outfit! You can also add this to the list of outfit ideas for the Remi Mules in addition to the ideas I published in September.
You May Also Enjoy Reading: XX and XX