My infatuation with space started when I was a little girl. My mom would always tune into the latest NASA rocket launch or drag us outside to watch the international space station fly through the night sky. At a young age, I loved these events and when any new opportunity came up relating to space, I jumped at it – from exploring Kennedy Space Center in Orlando, FL to the National Air and Space Museum in Washington, DC. It therefore, should come as no surprise that Seattle's Space Needle was on my bucket list.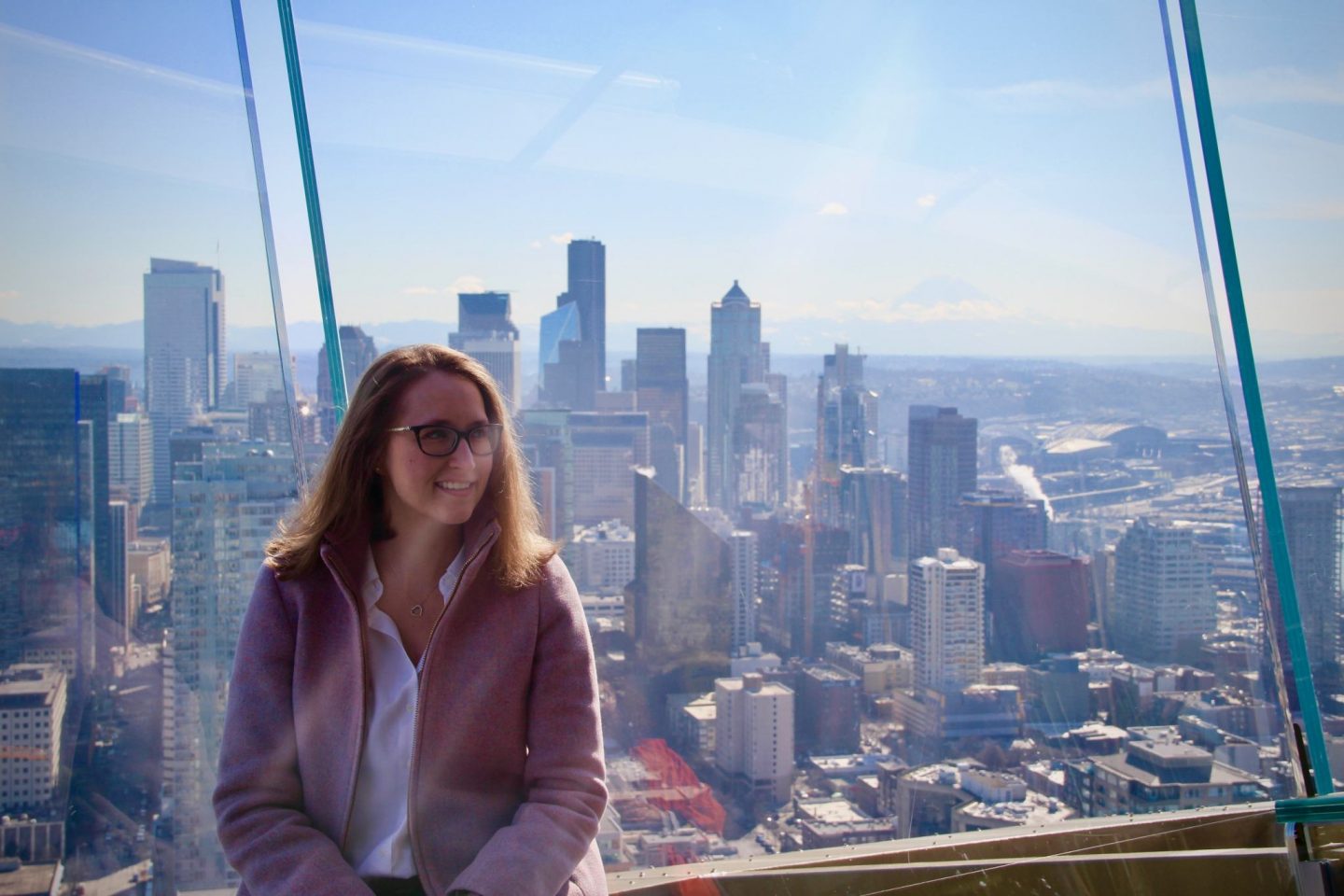 History of the Space Needle …
Located in the heart of downtown Seattle, it was constructed in the 1960s for the World's Fair. The Space Needle stands over 600 feet tall offering panoramic views of the city, as well as Mount Rainier and the Puget Sound. It symbolizes innovation, being cutting edge in design at the time. It also symbolizes journey to the far off reaches of space and our aspirations to explore new frontiers.
Recently renovated & officially reopened, the new Space Needle is extraordinary. With floor to ceiling glass (there is even an open air viewing area with glass benches against titled glass), the views are spectacular of the city & Mount Rainier. The renovation also opened up the lower level which has a completely clear glass floor (which will also rotate later this year) to view the streets below to give a full 360 degree viewing experience.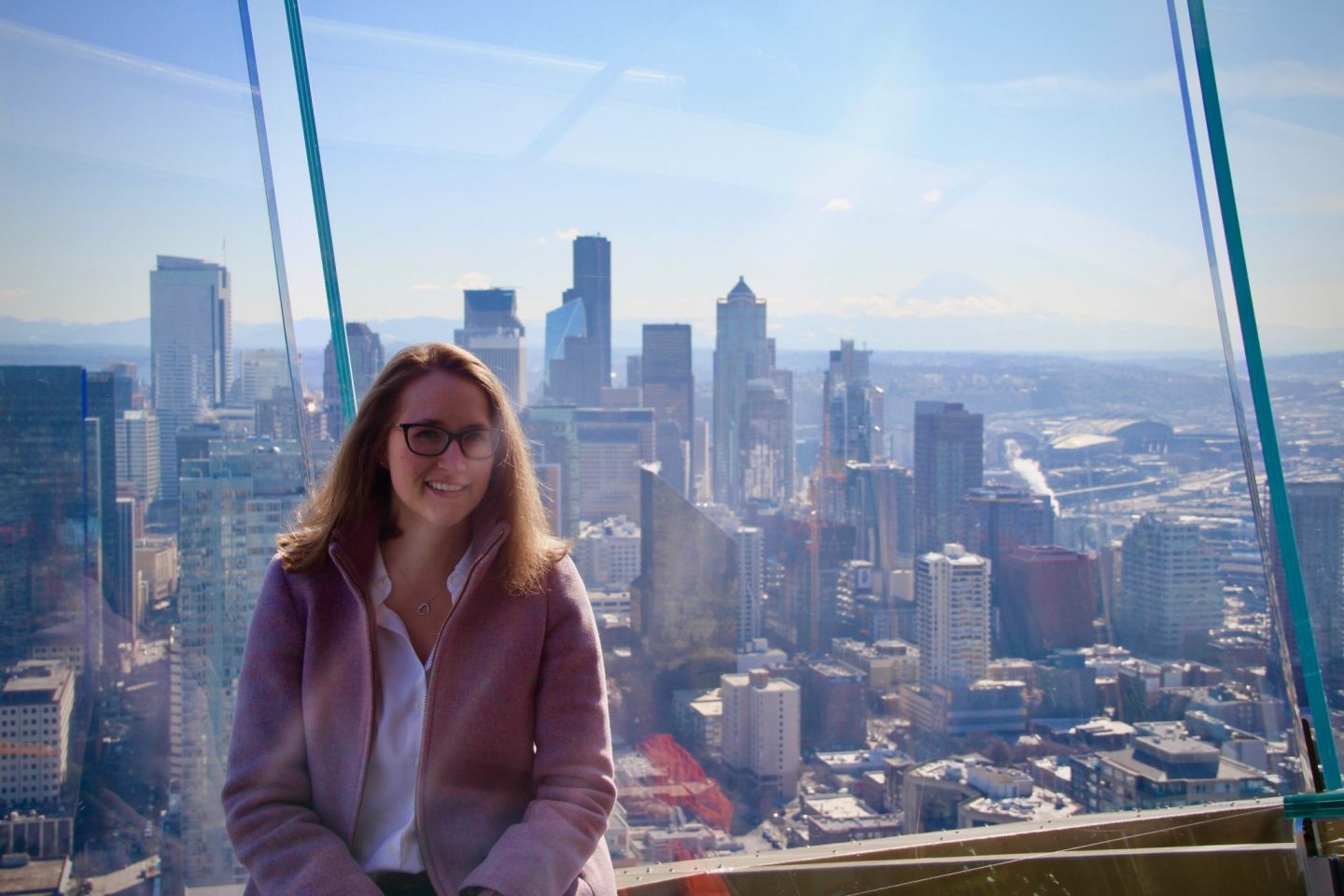 Our Adventure …
We choose to visit the space needle on the perfect day. It was sunny with blue sky & clear for miles. We bought our tickets at the base of the space needle where they have self-help kiosks as well as agents. Spiraling up to the elevators, we learned about the history of the space needle, how it was chosen, and the construction of the tower.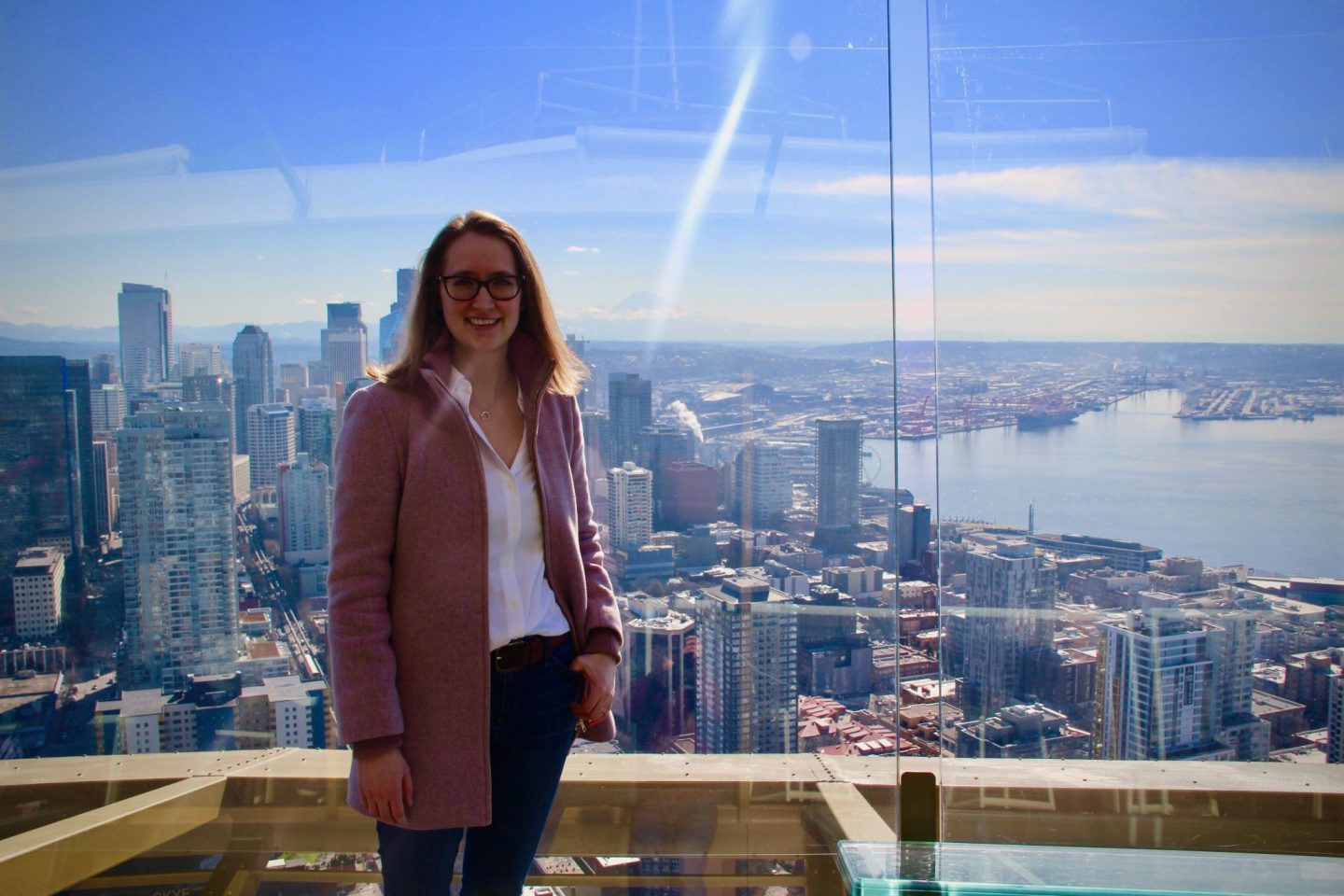 It was still cold outside, but being in the spring mood, I wore my J. Crew Lodge wool jacket in cotton candy pink (similar J. Crew Mercantile wool jacket). I love this jacket because it's super warm, being well lined and wool, but also super stylish with the clean lines and popped collar. I paired it with the perfect Uniqlo Rayon long-sleeve blousethat can go from the office to everyday. It is made of such breathable fabric and looks great layered as well as solo. I paired these with Joe's Flawless skinny jeans and an Abercrombie belt in brown (old, similar here).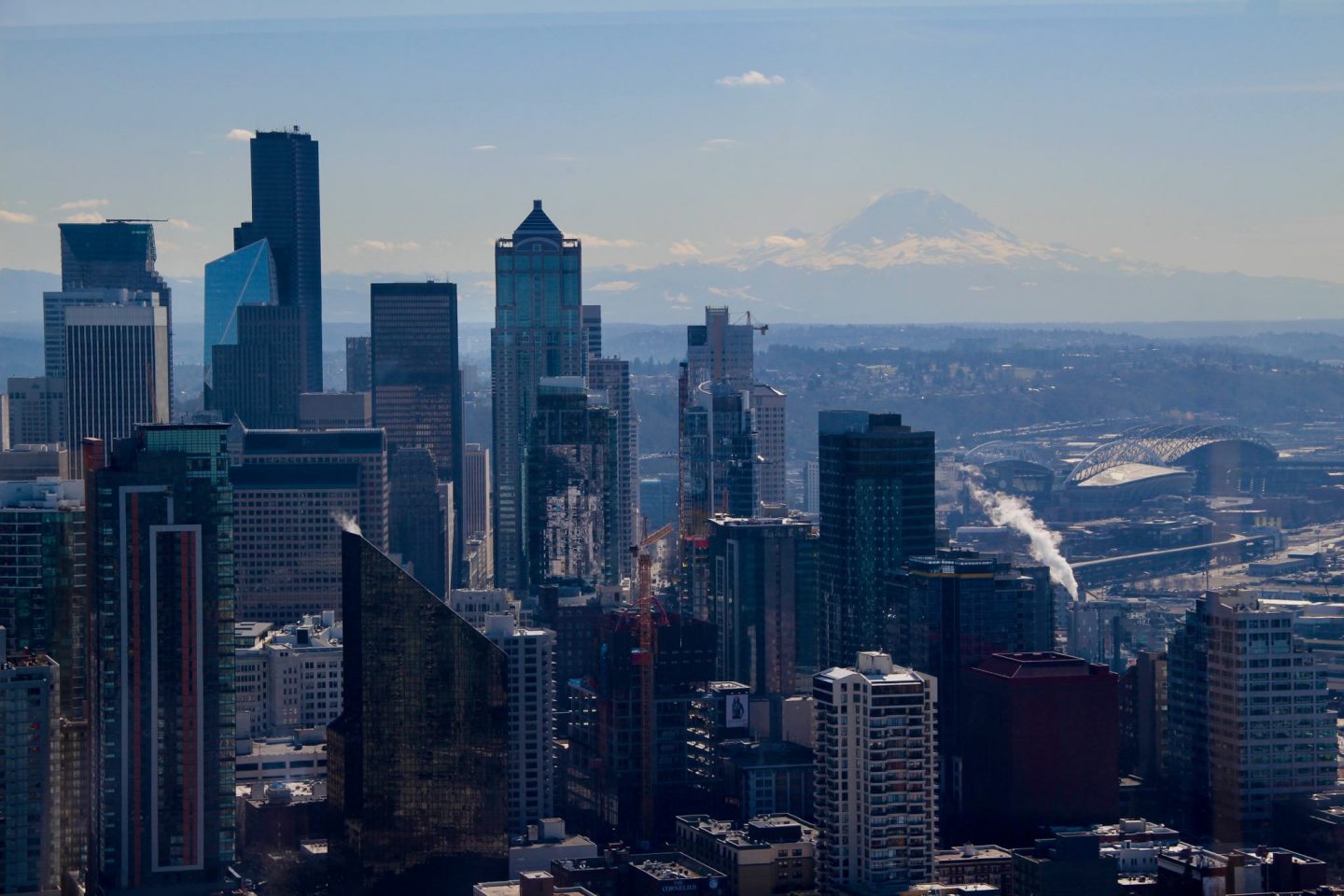 Taking the journey on the yellow elevators up over 500 feet to the observation deck, we were met with amazing views of the Puget Sound with the Olympic mountains in the distance. You could see all the Seattle skyscrapers, as well as Mount Rainer off in the distance.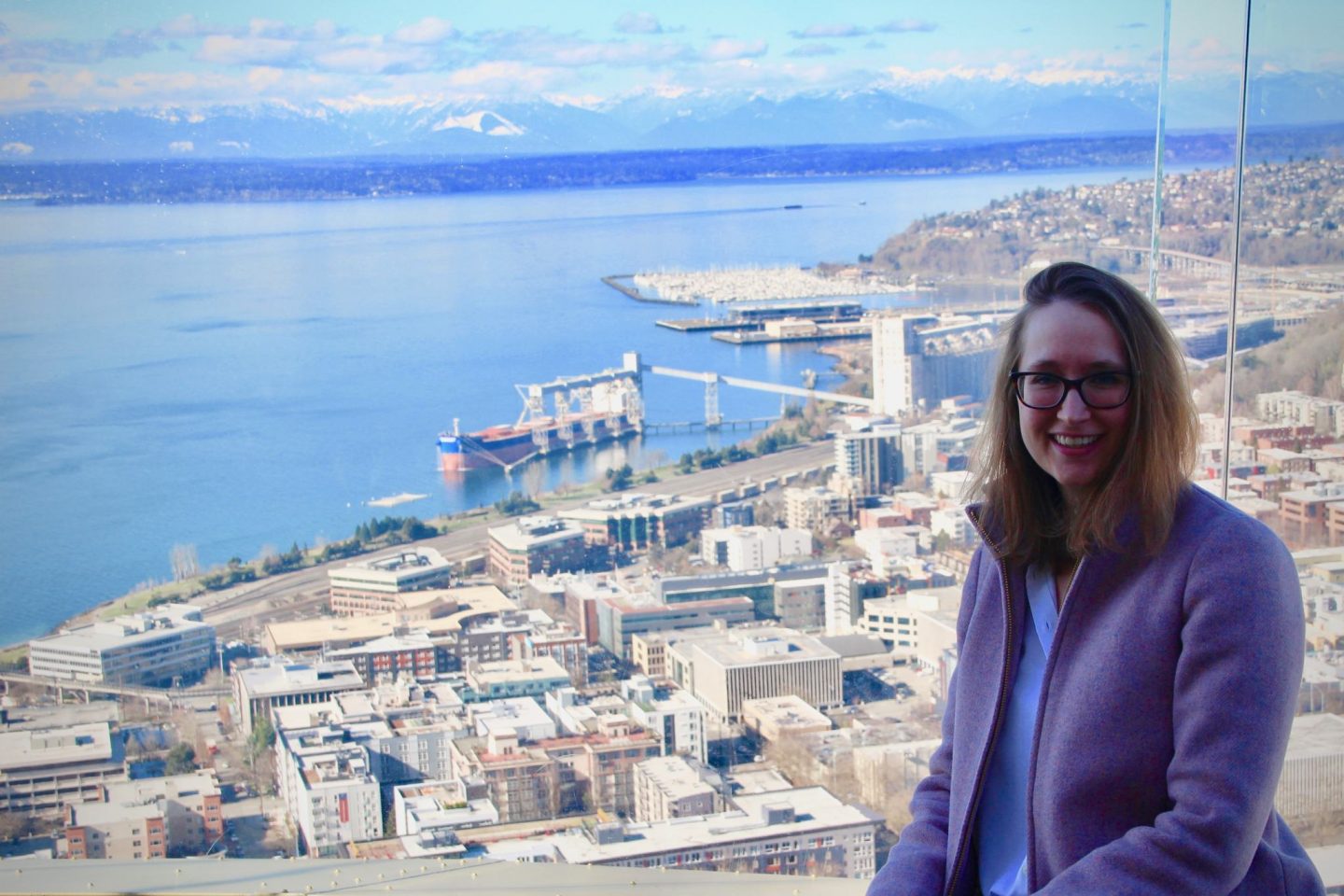 The Space Needle was a Spec-tacular adventure to the top of Seattle with amazing views! And that also means another one off the bucket list … What is your next bucket list adventure?
Also see: My Seattle Travel Guide, and Bucket List #2 Japanese Tea Ceremony