Fall in Cincinnati has cooler mornings but still relatively warm days. With all these temperature changes throughout the day, my skin tends to become confused in the transition between seasons. It has a tendency to become exceptionally dry and occasionally un-even in complexion. I have found that these 5 fall skincare products are perfect to combat these issues and leave my skin radiant.
Disclaimer: This post contains affiliate advertising, which means that if you click on or purchase a product through a link, I may earn a commission.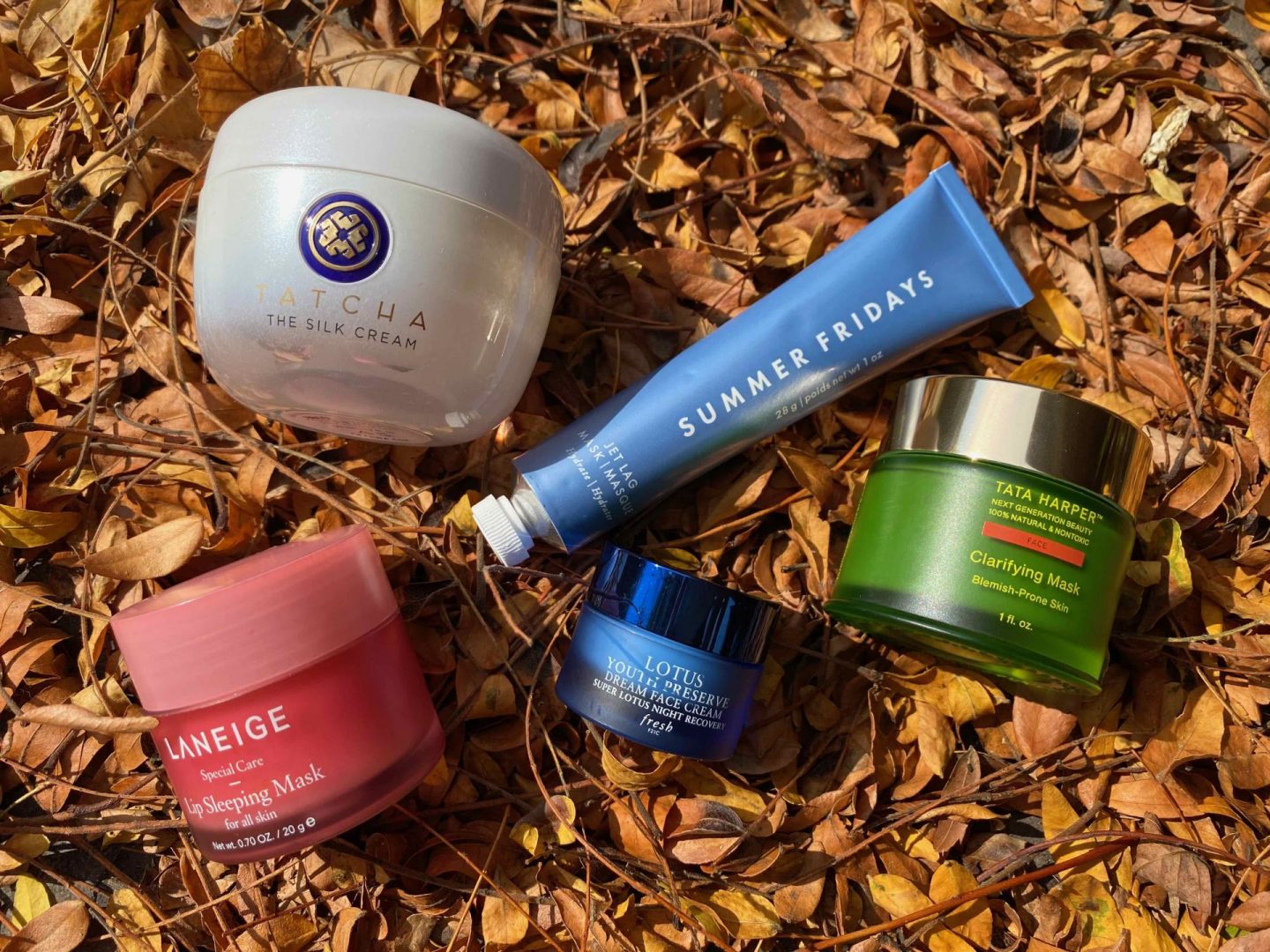 5 Fall Skincare Products
These 5 fall skincare products are perfect for keeping my skin well hydrated and even throughout the fall months. They also are all clean beauty approved which is great if you have sensitive skin like I do!
First up, Tatcha Silk Cream. I cannot rave enough about this amazing cream! It is a splurge purchase, but totally worth every penny! It is so hydrating, especially in the transition/cooler months. I love the way it feels gliding on my skin. The Tatcha Silk Cream is so light weight it can be worn during the day or put it on right before bed. It keeps my complexion even and clear, as well as helps reduce fine lines even after the first application.
I started using Summer Fridays Jet Lag Mask (under $50) when I was traveling earlier this year to help my skin stay moisturized on long flights. I was amazing at how hydrating this mask was! It left my skin feeling completely moisturized and lasted for days. Regardless of traveling, the Summer Fridays Jet Lag Mask is perfect for fall and the changing weather.
Next, the Fresh Lotus Anti-Aging Night Moisturizer (under $50) is an awesome night cream! It smells amazing – like mangos I swear! It always leaves my skin refreshed, well hydrated, and bright the next day. Perfect for fall.
Next up on my favorite 5 fall skincare products – the Tata Harper Clarifying AHA + BHA Mask. This is also a bit of a splurge but totally worth it for an at home spa experience! Not only is the Tata Harper Clarifying Mask great at evening out complexions and leaving skin hydrated, but it smells amazing! It tricks your mind into thinking you are getting a high end facial … all without leaving your home! What could be better for fall 2020?!
Last up, the Laneige Lip Sleeping Mask. No fall skincare products post would be complete without the most hydrating lip mask ever! I absolutely swear by the Laneige Lip Sleeping Mask. Whether it's for long flight skincare or dry fall/winter's this is one product that is perfect at moisturizing during drier conditions.
You might also enjoy: Glowing Travel Skin and 4 Jackets That Are Perfect for Fall